Manuskript 0.12.0 is finally here!
This is mostly a feature release which integrates a lot of long requested enhancements and is made possible by the folks who contribute to the project through opening issues, filing bug reports, adding code improvements and translating the UI into many languages. Thanks to you all.
What's new?
Searching
The search of Manuskript was massively improved by Moisés J. Bonilla Caraballo (@moisesjbc) which allows searching for text and regular expressions in your whole project (including plot, world, characters, outline and more). You can use Ctrl+F as shortcut, get a list of all results with a custom preview on mouse-over of each context and navigate through the found matches with F3 and Shift+F3. The areas of the search can explicitly be restricted as well to get more specific results.

Spell and grammar checking
A new spellchecker called LanguageTool is supported which allows many new languages and even some grammar checking with suggestions. Currently LanguageTool is not included in the release builds because it still may slow down the loading times significantly but it can be installed additionally (check the release notes) so that Manuskript should allow using it.
Logging
Thanks to Jan Wester (@worstje) a new logging system was integrated into Manuskript which provides more details about warnings and errors if a crash might happen. So fixing those problems can be solved much easier if logs get included into the reports. You can find your own logs via the menu in Manuskript.
Character counting
In the settings under "General" and "Views" you will find new options to enable showing your progress in amount of characters rather than words. This feature was requested for multiple different languages and even though it isn't a huge feature, it should help some people a lot. The amount of characters can also be obtained on mouse-over of the word count in the editor tab to be more space efficient.
More
The release also includes many more improvements and fixes. For example you can now add new characters, world items and plot items directly from the editor during writing. You can remove some characters from the selection dialog of the POV. The distraction-free mode will open up on the same monitor as the main window. The ID-system of Manuskript got optimized and a lot of bugs got fixed to reduce crashes and inconsistencies.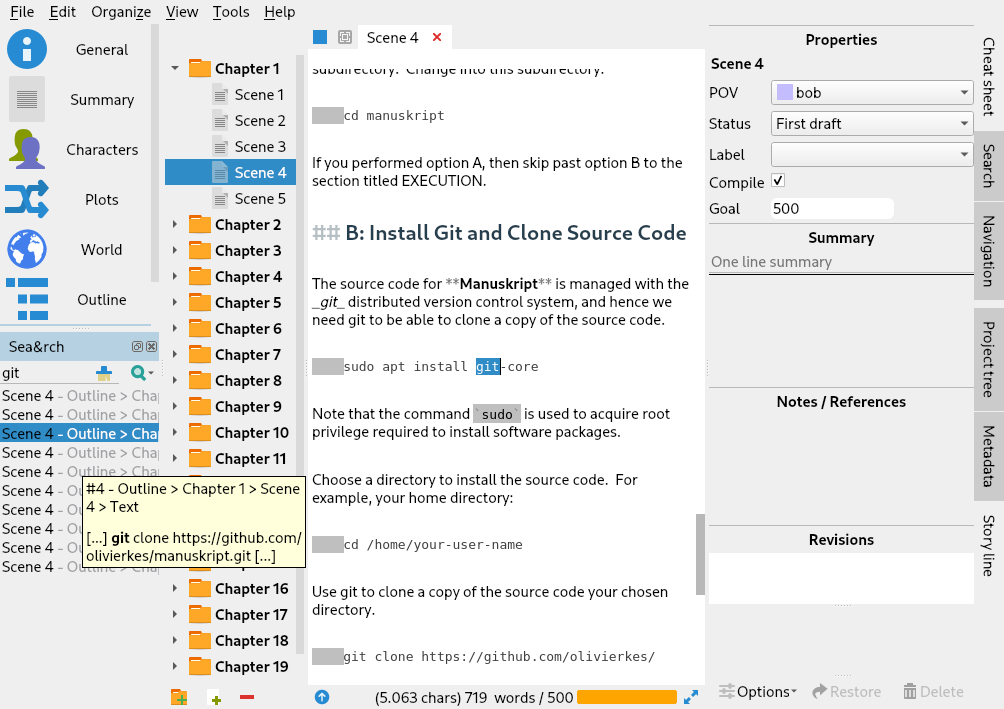 Download Manuskript
Download, install and learn how to use Manuskript to write a fiction novel today!
Manuskript is available for Linux, Windows, and Mac OS X.
Extra import and export formats such as ePub, OpenDocument (LibreOffice), and DocX (MS Word) are available in manuskript if you also install pandoc.
More information can be found on the Manuskript Wiki.
Improvements in this release can be found in the ChangeLog.