Manuskript 0.8.0 is out!
This release focuses on bug fixes and language translation updates that improve the usability of Manuskript for both fiction and non-fiction writers alike.
What's new?
Add support for Pandoc v2.x while maintaining v1.x support
Fix plot importance changes if delete earlier plot and click other plots
Remove conflicting plot resolution step key bindings for Ctrl+Backspace and Ctrl+Enter
Fix crash in Outline pane when multiple items selected
Fix crash on startup if project file was moved
Fix crash on compile/export with non-ascii encoding
Fix crash on import with Qt 5.11
Improve pandoc compile/export return code handling
Enhance Travis CI builds and tests
Increase Travis CI package build minimum for macOS X to Sierra 10.12
Here's a look at the Editor pane in Text mode which facilitates a quick overview of the document: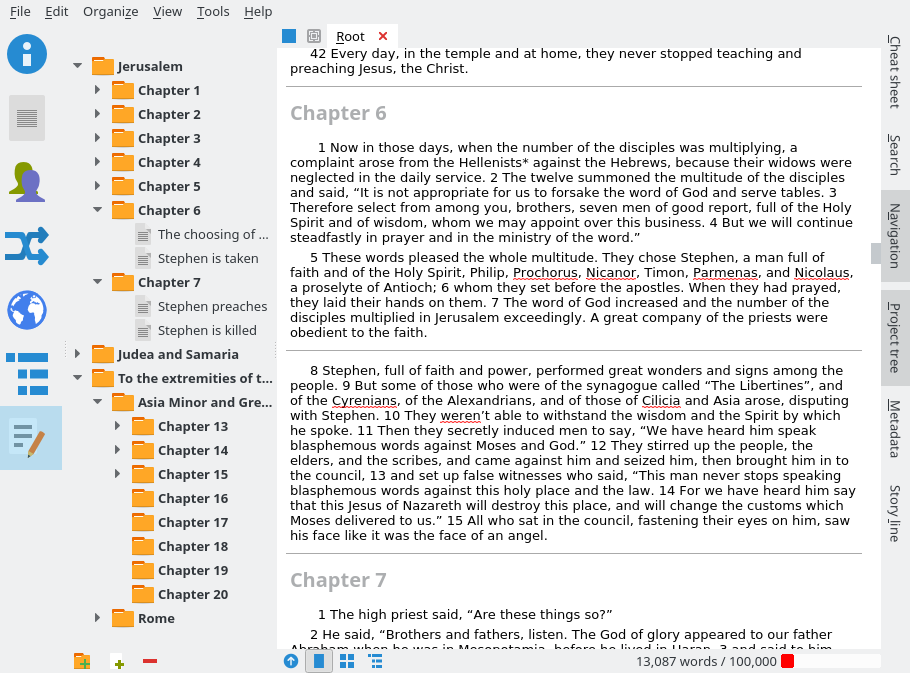 Download Manuskript
Download, install and learn how to use Manuskript to write a fiction novel today!
Manuskript is available for Linux, Windows, and Mac OS X.
Extra export formats such as ePub, OpenDocument (LibreOffice), and DocX (MS Word) are available in manuskript if you also install pandoc.
More information can be found on the Manuskript Wiki.
Improvements in this release can be found in the ChangeLog.
This release was made possible by input and contributions from a growing community that includes users, reporters, developers, and translators. Thanks to you Manuskipt is becoming a more powerful writing tool. Your feedback and help is appreciated.