Manuskript 0.7.0 is out!
This release contains enhancements, bug fixes, and language translation updates that improve the usability of Manuskript.
What's new?
Add new import formats like doxc, html, opml, Mind Map
Fix crash if Cheatsheet filter term not found and Enter key pressed
Fix spell check crash when enchant dictionary doesn't exist
Add command line parameter to open project
Fix crash when click GoUp button and current editor is None
Enable moving World items
Make http links clickable in markdown editor
Add markdown support of other tabs
Fix underline causes false spelling error
Clean up User Interface and hide Debug tab
Fix crash when directory or file names begin with a period
Fix Compile check box not working in Outline view
Fix cannot write a summary on a plot resolution step
Here's a look at the new format menu: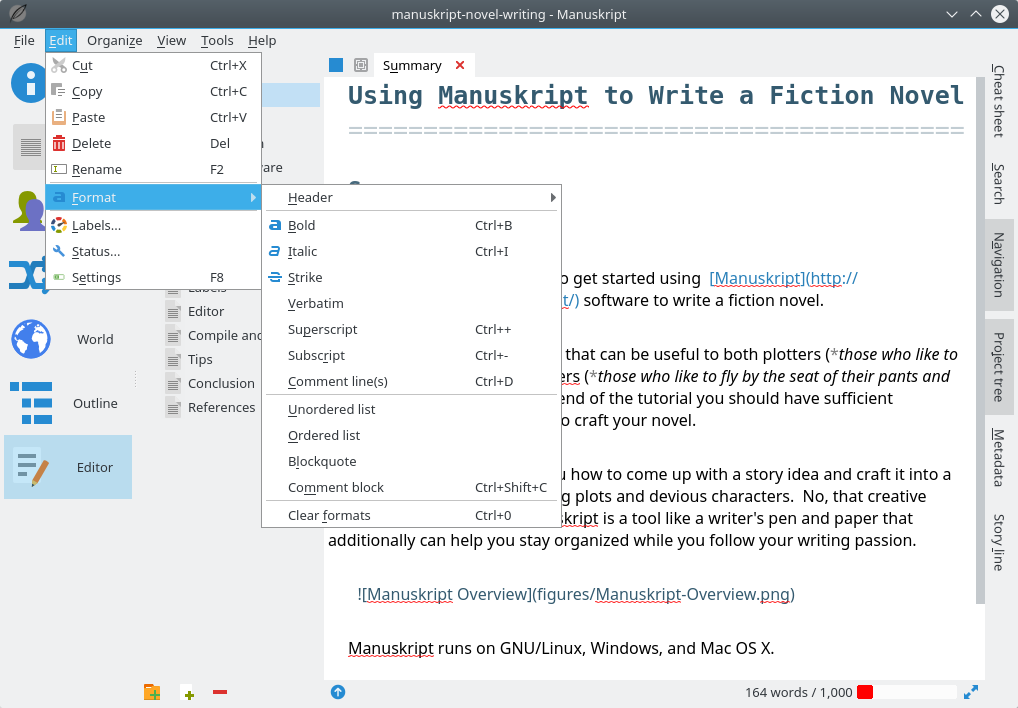 Download Manuskript
Download, install and learn how to use Manuskript to write a fiction novel today!
Manuskript is available for Linux, Windows, and Mac OS X.
Extra export formats such as ePub, OpenDocument (LibreOffice), and DocX (MS Word) are available in manuskript if you also install pandoc. Currently only pandoc version 1.x is supported. An issue has been created to track v2.x support.
More information can be found on the Manuskript Wiki.
Improvements in this release can be found in the ChangeLog.