Manuskript 0.6.0 is out!
This release contains many enhancements and bug fixes that improve the robustness and overall usability of Manuskript.
What's new?
Add Import feature to import several document formats via pandoc
Add Organize menu to assist changing document structure
Fix manuskript fails to run in Ubuntu 14.04
Remove hard coding of colors (improves dark theme experience)
Remove MultiMarkDown exporter (Pandoc performs these functions and more)
Automate the build of Mac OS X PyInstaller package (thanks go to katafrakt)
Add new automated build of .deb package for Debian based GNU/Linux distributions
Add new .rpm package for Fedora based GNU/Linux distributions
Here's a look at the updated project tree right-click menu: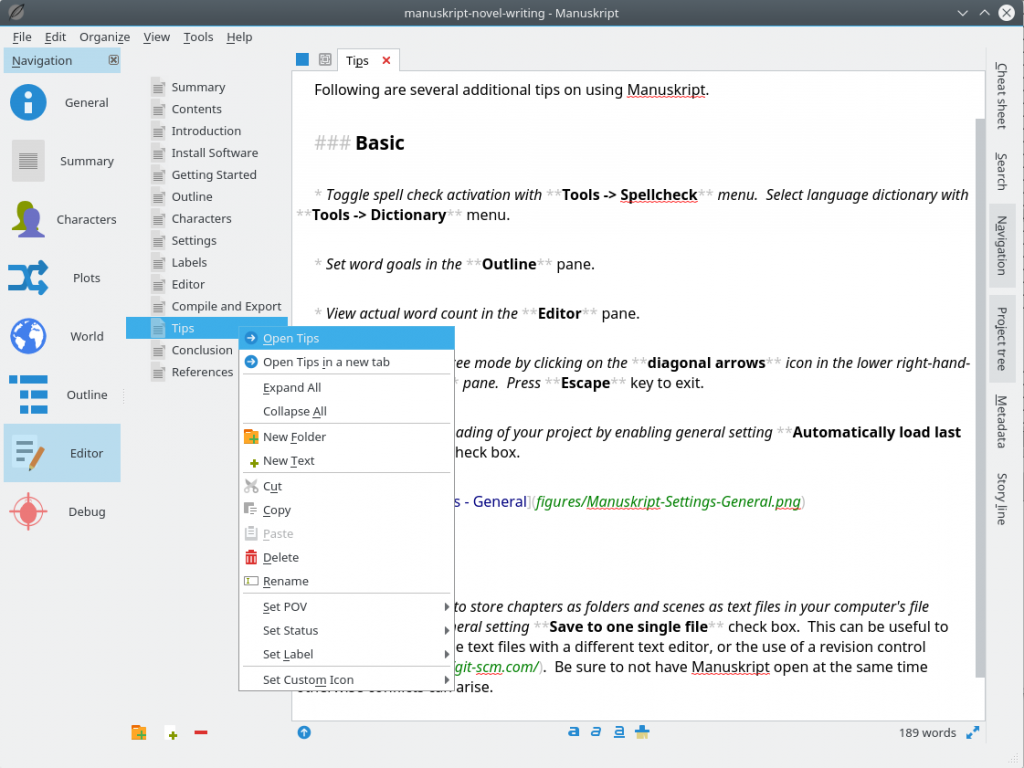 Download Manuskript
Download, install and learn how to use Manuskript to write a fiction novel today!
Manuskript is available for Linux, Windows, and Mac OS X.
Extra export formats such as ePub, OpenDocument (LibreOffice), and DocX (MS Word) are available in manuskript if you also install pandoc.
More information can be found on the Manuskript Wiki.
Improvements in this release can be found in the ChangeLog.