Manuskript 0.15.0 arrived!
Quite some time has past since the last release of Manuskript and again the release will mostly fix bugs – but a lot of them and some new features arrived as well. There is also quite some progress in translations of the UI thanks to all the translators. So please enjoy the improvements of Manuskript.
What's new?
Translations
Even more languages got added to the list of the supported ones and you can now track the progress on Github repository page. The translations are now more consistent, some bugs internally got fixed and all translatable strings are now included. Also keyboard shortcuts should now work independent of your language setting (this was a bug caused by improper default of the UI we use).
Session target
Thanks to the contribution of @nephlm, it's now possible to configure a writing target for your current session which tracks progress. Beware it's still in early phase of development but it might help some users already in context of writing competitions.
Drag & Drop
Thanks to @tcsch it's now possible to drag and drop elements from the outline view in the editor in one writing panel to open the given item immediately. This improves working with multiple panels since it allows where the item should be opened.
Fixes
A lot of bugs got fixed this time. Big thanks to Kim (@MC42), @TheShadowOfHassen and @tcsch for helping me (@TheJackiMonster) with multiple contributions to get rid of many different issues users had trouble with. There are more than six different kinds of crashes fixed. UI behaves more consistently now overall. Some problems with packaging got solved and more. For more details I recommend checking out the changelog.
Installer for macOS
Thanks to the efforts from Marek Dabrowski (@marosoft) and Jan-Niklas Meier (@dschanoeh), Manuskript can finally provide a proper installer for macOS in its release. Keep in mind that the installer is not signed though. So your system might not allow the installation or running it before checking the necessary boxes in your security settings. Unfortunately we don't have the resources to get releases officially signed and rolling into the official app store. But this is still a big leap to support a wider range of operating systems.
Development builds for Windows
Thanks to Kim (@MC42) we can now use the automatic CI pipelines from Github to automatically test development builds on Linux and create binary build for Windows to test. So if you want to test the latest state of development to find and report issues, feel free to checkout the builds on Github. This should also help users to verify a certain issue was actually fixed in the development builds.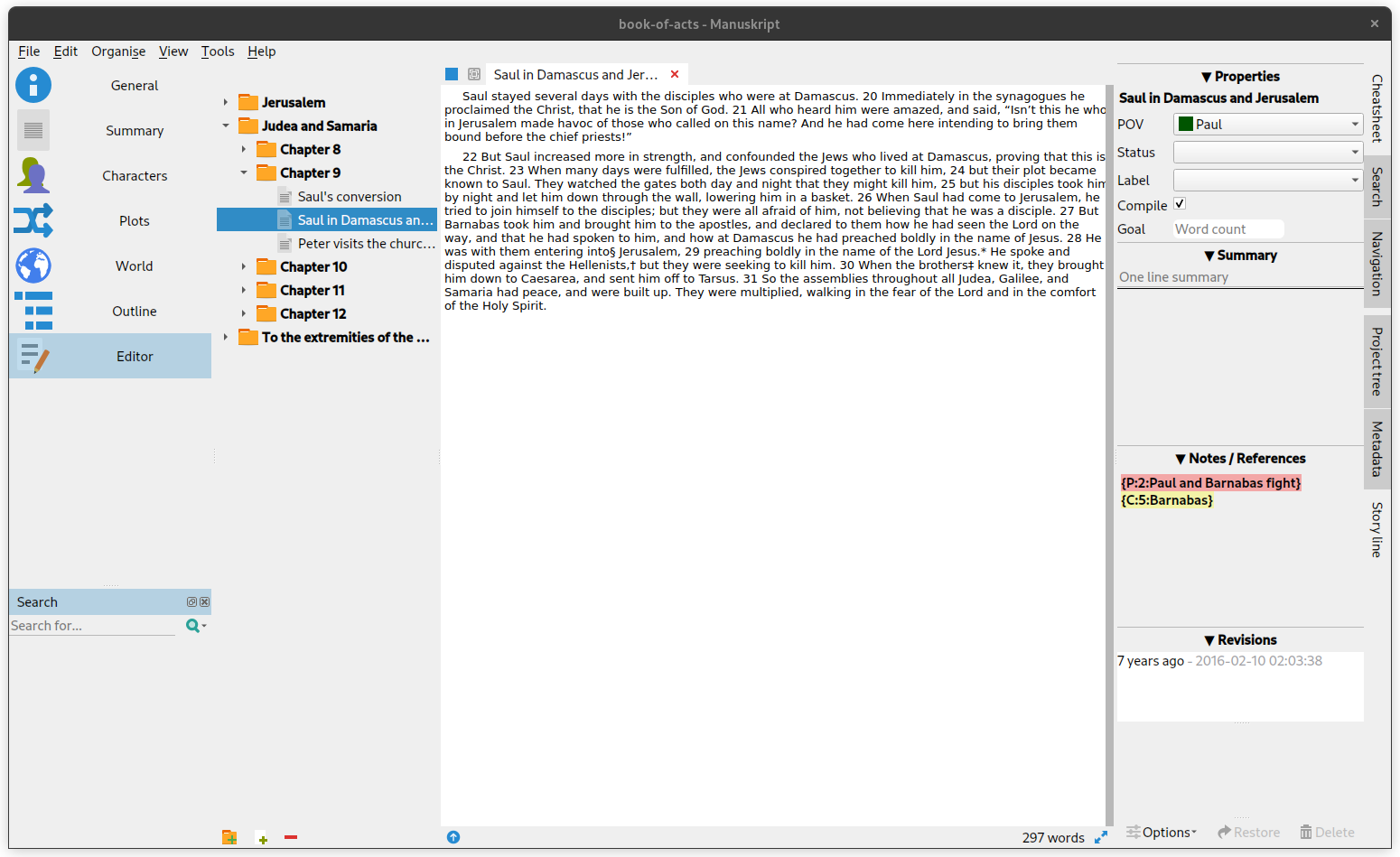 Download Manuskript
Download, install and learn how to use Manuskript to write a fiction novel today!
Manuskript is available for Linux, Windows, and Mac OS X.
Extra import and export formats such as ePub, OpenDocument (LibreOffice), and DocX (MS Word) are available in Manuskript if you also install Pandoc.
More information can be found on the Manuskript Wiki.
Improvements in this release can be found in the ChangeLog.