Manuskript 0.14.0 is here!
This is mostly a bug-fix release. So there are not many new shiny features. However this release will hopefully help reduce the issues from many users.
What's new?
Stability
There are multiple bugs which should be fixed by this release. If you have an issue still open on Github, you can probably check whether this still holds or if it might have been fixed by now. A lot of crashes and some potential data loss in the past have been caused by IDs mismatching in the files of a project during rearranging them and there have been efforts to close this problem thanks @olivierkes.
We are still looking into this issue because it might not be fully fixed yet. So please keep making backups of your projects and it is still recommended to use projects in the non-single-file mode (so you store your data/chapters/scenes in individual files inside a folder).
Also big thanks to @jdanielp and @amconners looking into multiple crashes appearing in different functionality of the application and closing the problems.
Translations
There have been huge additions and improvements in many different languages as well as complete new support for even more languages than before. Big thanks to all the people doing translations via Weblate for this project.
Testing
Thanks to @zeth we got a new automatic test for parsing multi-markdown files. Hopefully this will help improving the reliability and stability of Manuskript in the future.
More
There's also a new option in the Pandoc exporter thanks to @Mte90 and on Windows you should now be able to start Manuskript without console window in the background. Just use the "manuskriptw.exe" file provided in the .zip archive of this release.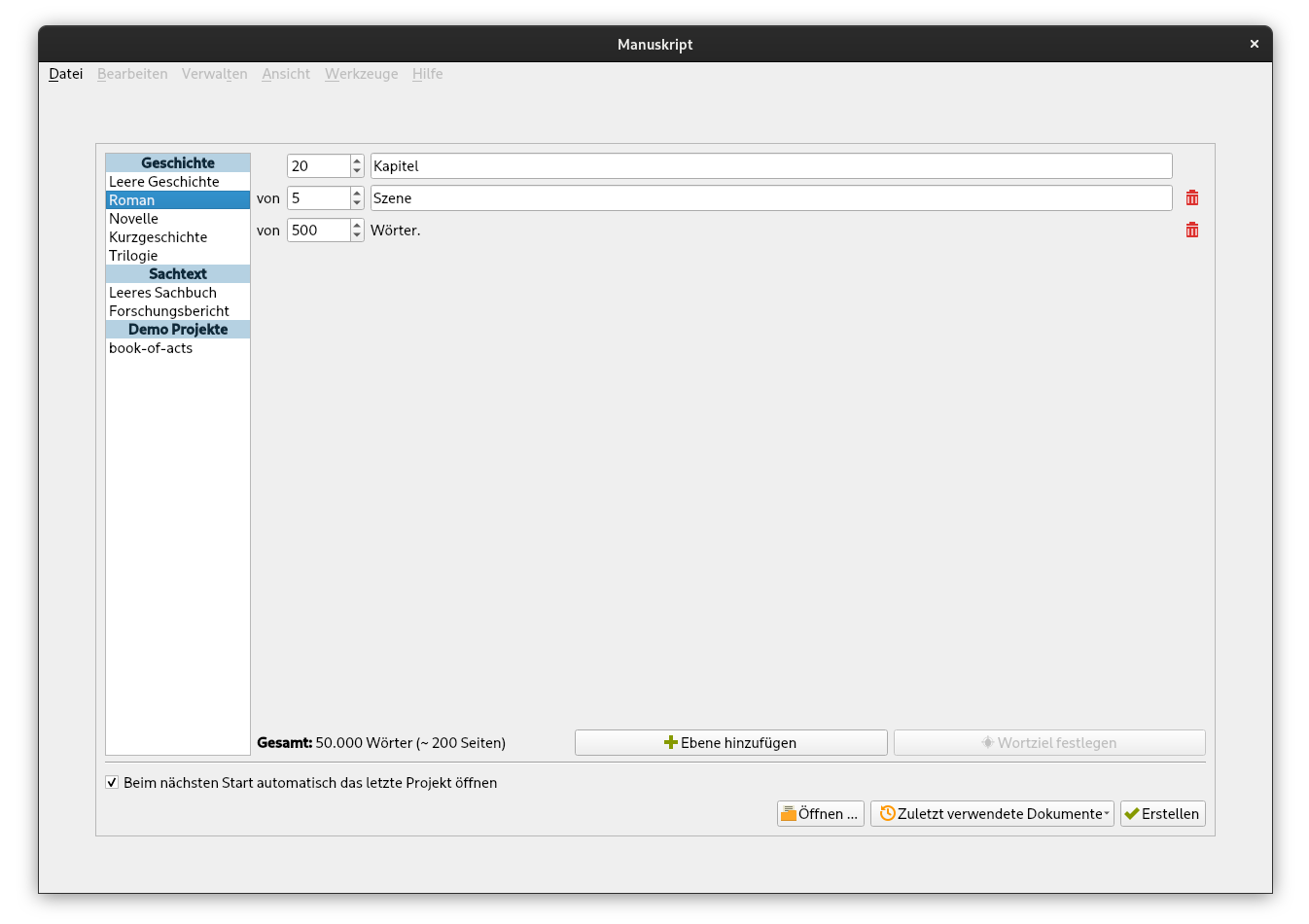 Download Manuskript
Download, install and learn how to use Manuskript to write a fiction novel today!
Manuskript is available for Linux, Windows, and Mac OS X.
Extra import and export formats such as ePub, OpenDocument (LibreOffice), and DocX (MS Word) are available in Manuskript if you also install Pandoc.
More information can be found on the Manuskript Wiki.
Improvements in this release can be found in the ChangeLog.