Manuskript 0.13.1 got released!
Why is it called 0.13.1 instead of 0.13.0? Well, because a newer Python update broke compatibility right after I finished preparation for 0.13.0. However this shouldn't affect most platforms without Python version 3.10.1 or newer and I applied multiple changes already to prevent crashes. So Manuskript 0.13.1 should work just fine.
What's new?
Packaging
For all of you using modern GNU/Linux distributions on your desktop computer, Manuskript will now be provided as flatpak which is available on flathub.org to be installed on most distributions out of the box via flatpak.
For other GNU/Linux distribution which do not use flatpaks, there are still the .deb- and .rpm files as well as the archives containing the source code. Even the snap package on snapcraft.io is now up to date again and will be maintained.
So for this release and future releases you will probably be able to install the most current version right from your usual software store.
Security
After the launch of the last release a security issue was encountered which seemed to exist for a longer period already but it required using the older file format from Manuskript (more details about it can be found in the release notes of 0.12.0 here). This issue could now be closed thanks to the help of Zeth (@zeth) who provided a patch to fix it.

Reliability
You are probably asking why aren't here many new awesome features listed like with version 0.12.0? The reason is Manuskript most problem is still that people encounter crashes, inconsistency or even loose data when a backup wasn't made. So we focused with priority on fixing bugs and problems many of you encountered so far, making Manuskript more reliable.
You will find a more detailed list of all the fixes which got applied in the Changelog. Most important is that if you had issues with the last version in particular, it is very likely those problems got solved now. If you should encounter any crashes or other problems (maybe only some inconsistencies), please let us know and open an issue on Github.
For example Manuskript will now handle properly to use newer and older versions of Pandoc. So it shouldn't break anymore or throw warnings at you if you got the wrong version installed. Also when you are deleting some files in your project, the dialog will now tell you which files were selected for the deletion making it safer to use this functionality thanks to Aoife Catherine Fogarty (@acfogarty).
Also a big thanks to Jan Wester (@worstje) fixing a row of different bugs which got reported.
Translations
Definitely something which needs to be mentioned more often is the work all of the translators are doing. Many different parts of the translations got updated, adjusted and added. There are still coming new languages for Manuskript to support a wider audience because of new translators who contribute via weblate. Big thanks to all of you.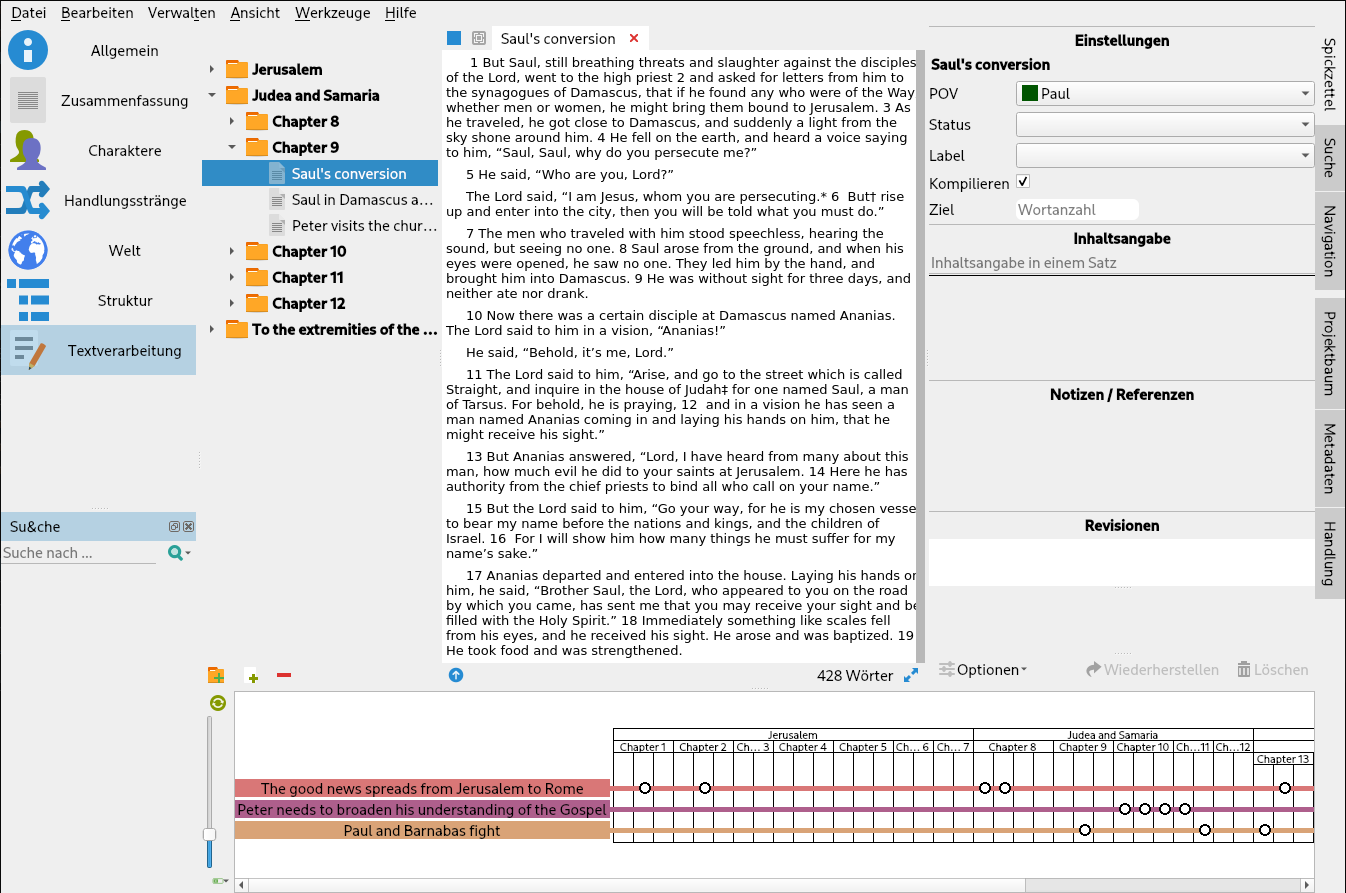 Download Manuskript
Download, install and learn how to use Manuskript to write a fiction novel today!
Manuskript is available for Linux, Windows, and Mac OS X.
Extra import and export formats such as ePub, OpenDocument (LibreOffice), and DocX (MS Word) are available in Manuskript if you also install Pandoc.
More information can be found on the Manuskript Wiki.
Improvements in this release can be found in the ChangeLog.