Manuskript 0.4.0 is out !
Development is slowly going forward on github, thanks to many people contributing with: bug reports, ideas, code, and even donations. Thanks to all of them ! Special thanks to Curtis Gedak (maintainer of: GParted, EBookGenTools, and SolitaireCG) who's been really helpful lately !
What's new?
A much better export system, working with markdown, using either Pandoc or MMD:
Split view to work on different items in parallel or navigate in a different way: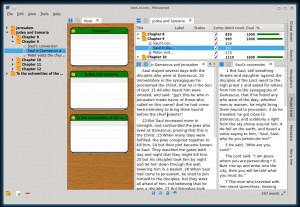 Improved Spanish translation, and many bugs corrected.