Manuskript 0.10.0 is out!
This release is made possible by many people who contribute bug reports, code improvements, and language translations. Thanks goes to all of you. Special thanks to Jan Wester (@worstje) who enabled the new Windows 10 dark theme and has provided fixes for a variety of issues.
What's new?
This release adds a dark theme for Windows 10, enables alternate spell checkers, and includes many bug fixes and language translation updates.
Add support for additional spell checkers
Add basic dark theme for Windows 10
Enable non-English locales to display built-in English language
Default keep revisions to disabled
Improve project save by tracking dirty (changes made) state
Improve upon undesirable window placements
Fix template new level names being reset
Fix compile/export silently overwriting files
Fix cannot leave fullscreen mode with macOS X
Improve image tooltip handling
Prevent spellcheck on typing word at end of paragraph
Add warning for import crash with Qt 5.11 and 5.12
Fix crash when lowering number of saved revisions below 1
Fix crash when hovering over image link
Fix crash when removing folders
Fix crash when drag and drop in outline
Fix crash on adding word goal in outline
Fix crash when story line shown with German translation
Fix crash when importing
Fix crash with pandoc export when title is empty
Fix crash when invalid characters inserted into text
Fix crash when using a custom pandoc installation
Here's a look at Manuskript with the KDE Breeze Dark theme: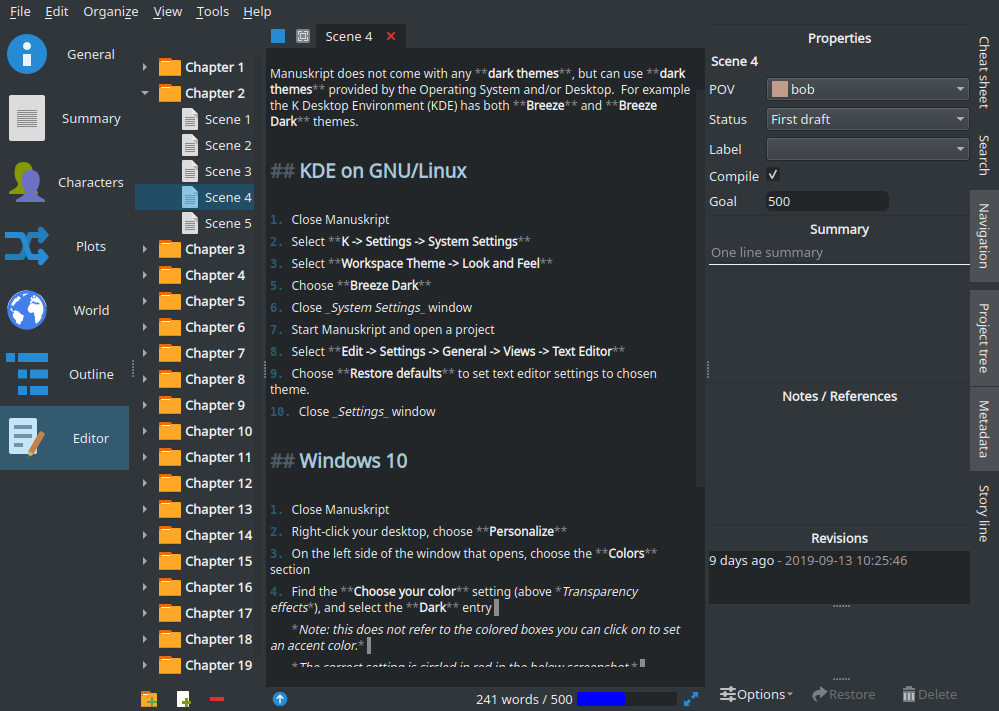 Download Manuskript
Download, install and learn how to use Manuskript to write a fiction novel today!
Manuskript is available for Linux, Windows, and Mac OS X.
Extra import and export formats such as ePub, OpenDocument (LibreOffice), and DocX (MS Word) are available in manuskript if you also install pandoc.
More information can be found on the Manuskript Wiki.
Improvements in this release can be found in the ChangeLog.