Hey, manuskript 0.3.0 is out !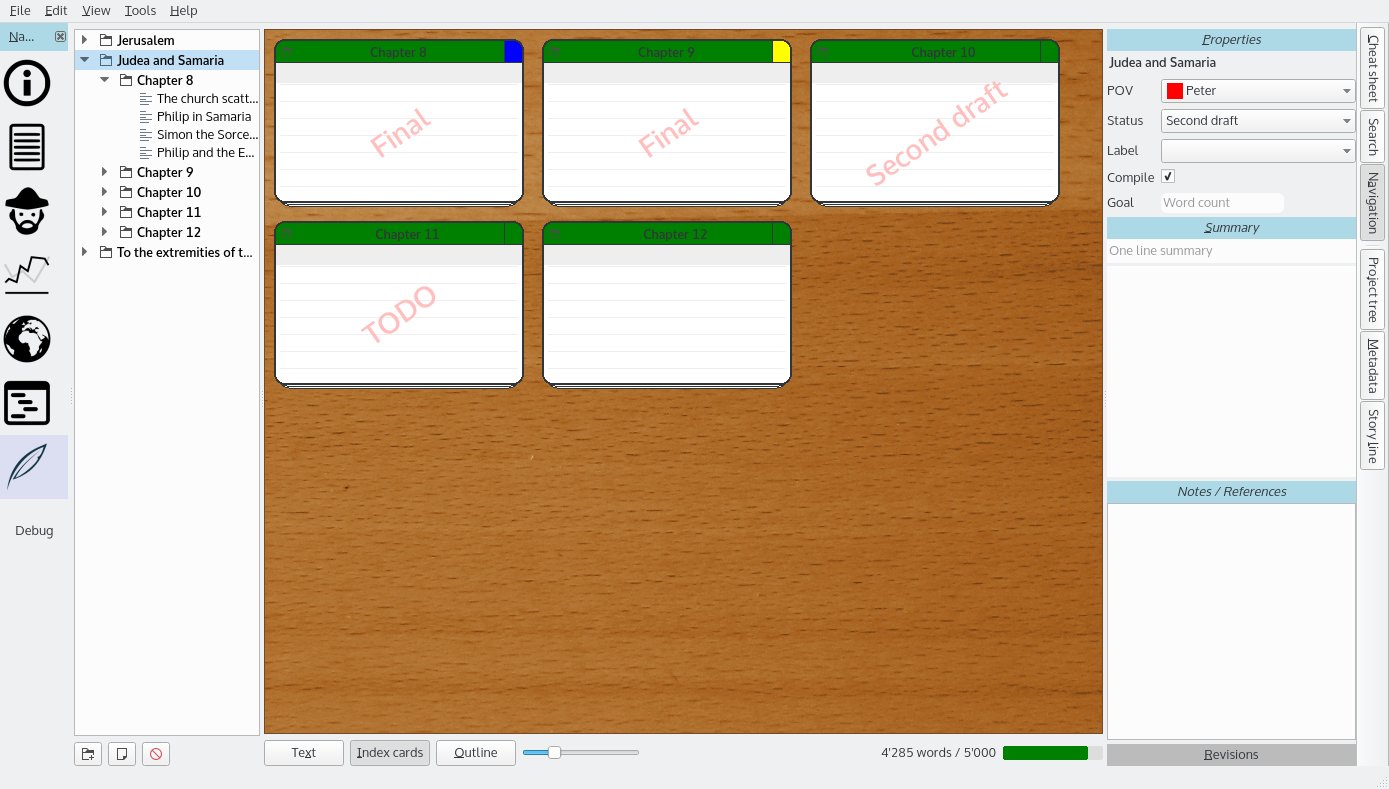 So, what's new?
Most changes happened under the hood. Here are the most important:
1. New file format
I have been dissatisfied for a while with the single-file format: it doesn't allow versioning, collaborative editing nor out-of-manuskript editing. Pushed by one of my interlocutor, I opted for a different file format, where everything is either:
stored as several small text files in one folder
or zipped in one file.
Warning: Though I tried my best to guarantee a smooth experience, it's possible that loading from an ancient file format fails. You should certainly do a backup if you have an important manuskript project, and test a few times (closing and reopening manuskript) to be sure everything is alright. And as always, please report any bug you find.
2. Simpler interface
I've been asked to reconsider "the enormity of my project" :p by thinking not only of fiction writers, but also of other type of writing: academic, documentation, etc. Those writers are not interested in character or plot development.
Therefore, Manukskript now offers two modes: one "fiction" mode with all the tools for fiction writers (summary, characters, plot, world/context, etc.), and one "simple" mode, with only the writing tab.
3. Markdown

Finally, I finally decided to drop my beloved txt2tags for markdown. I've not settled yet on an exact flavour of markdown, but it will probably be that of pandoc, to enjoy LOTS of export format (html, docx, odt, latex / PDF, epub, rst, etc.).
I also decided to drop other text format (plain text and rich text), for the sake of simplicity. So if you want to add some formatting (bold, italic, etc.) to your project, you will have to use the lightweight markup of markdown. For example, this is *italic* and this is **bold**. It may seem unsettling at first, but many of those who try markup just fall in love: as soon as you get the hang of it, you're able to focus more on writing and less on formatting. And it's cleaner.
Warning: because of the switch to markdown you'll lose any formatting (bold, italic, underline, align centre or right) in your project. If you did some formatting in txt2tags, you'll still have the markup, but invalid. If in html, it will be totally gone. Sorry, but hey, manuskript is under heavy development 🙂
Many small tweaks
Among those:
How can I try?
Go to the download page.
Thanks
Thanks to all of you who contributed to: translate, test, report, package, question, critique, encourage and thank. Working on an open-source project is quite fun 🙂
Special thanks to those who donated something, it means a lot 😉
What's next?
I drafted some kind of roadmap. Please feel free to weigh in.